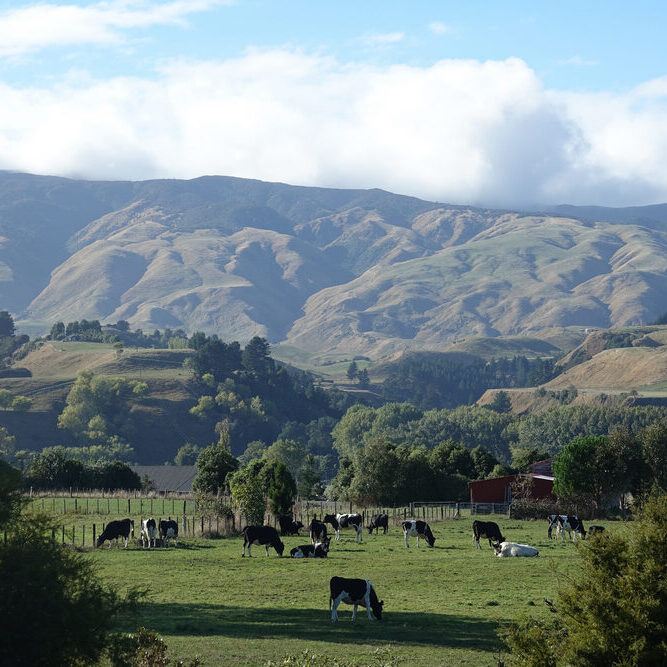 Adrian and Jill Walcroft established Cartwheel Creamery in the Pohangina Valley, Manawatu, in 2011.
Cheesemaking had been on their mind since 1996 though, when Adrian did a cheesemaking course, which led them to having a go at sheep milk cheese at home.  They use cow's milk from local farmers, and goats' milk from a farm in Opiki.
It's no surprise they know what they are doing given their backgrounds as scientists at Landcare and AgResearch, coupled with their discovery of washed rinds when they spent a few years in France.
Cartwheel Creamery is small but growing, and has a focus on making phenomenal cheeses through traditional techniques matched with modern food production science. They only use the finest milk from healthy and happy local animals. This includes milk from some Jersey Cross cows they use for soft and blue cheeses, and from some Friesians they use for semi-hard cheeses. They also source some local A2 cows' milk. They make their goat cheese from the milk of a local herd of Saanen goats.
They use a gentle batch process to pasteurise to retain as much of the goodness of the raw milk as possible. Nothing but cheese cultures, rennet and salt are added, and the cheeses naturally mature to develop a complex flavour profile that varies with the seasons.
The growth of production of artisan cheese in NZ is following the explosion of craft beer, and we're thrilled by how Adrian and Jill have bought these together by making some beer-washed rinds using local beers. Perfect!
They've been making cheese since 2014 and they have quite rightly consistently won awards since then. The styles are familiar but they bring flair to everything they do. Their cheeses are all distinctive and recognisably theirs, and their brand and packaging are equally distinctive and stylish.
Where do these cheeses
come from?