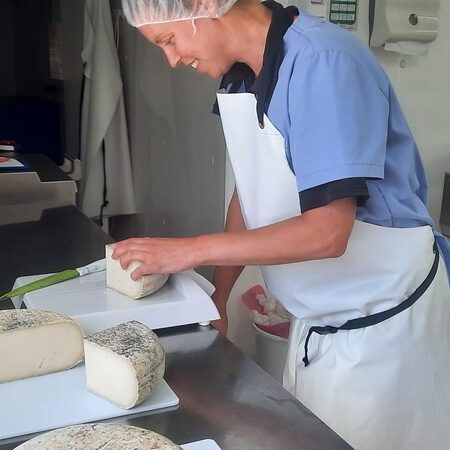 Hellene and Simon Lamb started production at Cranky Goat in April 2014.
From the outset they designed it as a family business to last generations, and their daughter Hannah leads their marketing. You can find them at the top of the Mahakipawa arm, near Linkwater in the spectacular Marlborough Sounds. After a career in the RAF and RNZAF, Simon started experimenting with his neighbour's goat milk as a hobby, looking to emulate the family's favourite French styles. It wasn't long before they built a little factory on their quarter acre section and the word got out.
They are an archetypical artisan cheesemaker, using minimal processing and traditional methods to turn high quality goat milk from a nearby farm in the Marlborough Sounds into stunningly delicious cheeses. Goat cheese is great for the lactose intolerant, but many of Cranky Goat's cheeses are crazy creamy and appeal to even those who don't think they like goat cheese. Like all good artisans, they collaborate with other local artisans e.g.  a washed rind using a local sauvignon blanc, and a cheese using local black garlic.
The goats dry off over winter, so they only make goat milk cheese from September to May. Not wanting to disappoint their fans desperate for their fix of cheese made by these innovative cheesemakers, they also established their Mooody Cow brand in 2020. Mooody Cow cheeses are also made by traditional French methods using A2 milk from Nelson. They make a variety of soft cow's milk cheeses, including smoked and flavoured, and some firm styles. They are each superb examples of their style, with a distinctive twist of their own.
Their cheeses have won lots of awards, and given their track record of consistently high production standards matched with relentless innovation, they'll win lots more in the years to come.
For a small operation they make a wide variety of styles, including French chevre and camembert, Greek Feta and Labneh, Spanish Manchego, and the Welsh Caerphilly. They use vegetarian rennet, and all cheeses are made in handcrafted small batches.
Where do these cheeses
come from?