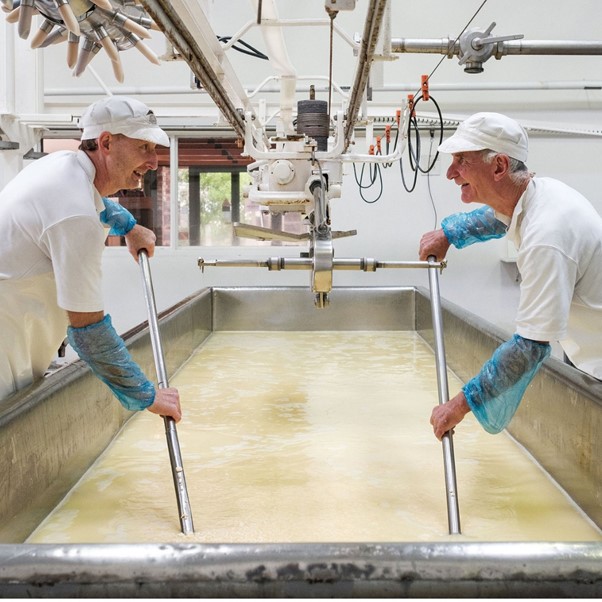 Barrys Bay say that good taste comes with age.
Given they are by far the oldest fine cheese maker in The Cheese Wheel whānau, they certainly have the right to claim that. Of course, they also produce some wonderfully aged cheeses like Gouda, Maasdam, Gruyere, Cheddar and Peninsula Blue. They produced their first Clothbound Cheddar in 1895 and have been going strong for over 125 years.
Originally one of 9 small dairy cooperatives on Bank Peninsula, Barrys Bay is now the last surviving cheese factory. In the early days their cheese was collected by boat and would later travel by train to Lyttelton Port for export to England. With a booming local dairy industry, a new factory was built in 1953 for expansion and this is the same factory they're in today!
You'll pass it the next time you visit Akaroa (it's about 12km on the Christchurch side). What hasn't changed much over time though is how they make cheese. They have resisted the siren song of too-modern technology and still use the same traditional methods they used in 1895. They have a factory shop of course, and you can view the cheesemaking through a large window.
They make cheese from September to May using fresh milk from local grass-fed cows. Another unique feature they claim is to be the only cheese company in New Zealand to produce vintage cheddar aged in cloth and wax. In the 80's a Dutch Cheesemaker helped develop their repertoire to include European style cheeses. These wheels are aged on white pine shelves and carefully turned & wiped regularly until they reach optimum maturity. True to their handcrafted motto, the cheese is still very much made and cut by hand.
Unsurprisingly, they have won many awards and are an esteemed member of NZ's fine cheesemaking community.
Where do these cheeses
come from?