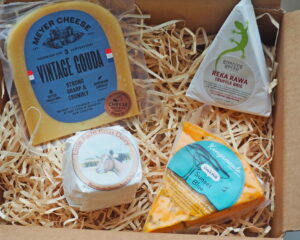 Merry Christmas, meri Kirihimete, manuia le Kirisimasi, Joyeux Noel, Buon Natale, and Feliz Navidad from us at The Cheese Wheel!
This fabulous box of delicious cheeses lovingly made by artisans across Aotearoa has been gifted to you by someone who cares about you (maybe yourself!)! There are several dozen artisan cheesemakers across New Zealand making stunning cheeses. They use traditional techniques underpinned by modern science and technology. They also never stop innovating. Like craft beer and wine before, NZ artisan cheese is leading the world.
TRUFFLE BRIE – FROM GRINNING GECKO
Lovers of earthy soft cheeses will love this one. It has some truffle paste added, it's the taste of a cheesy forest floor! We had it made for our December box and the feedback led us to include the remaining hard-to-source stock in our Xmas box. Match with an Extra Dry or Brut prosecco or a Hops On Pointe from Garage Project.
Region: Northland. Type of milk: cow.
VINTAGE GOUDA – FROM MEYERVIAVIO
One of the finest cheeses made in Aotearoa and made by one of our grand old artisan cheesemaking family firms. Once they adapted to the superior milk produced by the cows munching on the green grass of the Waikato, the founders of Meyer started making this global-award winning classic of its kind. Watch out for the crunch of the salt crystals, and match it with a chardonnay, Tuatara Helles or a Scotch ale. 
Region: Waikato. Type of milk: cow.
TASHA – FROM LITTLE FARM GOAT DAIRY
A Christmas treat! This is the first box in which we have featured cheese from Little Farm Goat Dairy, and it's a delight. It's also the first cheese we've included that's named after an actual goat, the impish Tasha the Toggenburg. Get it out of the fridge an hour before eating, and match it with a saison or the best Sauvignon blanc you can find.
Region: Canterbury. Type of milk: goat.
SUNSET BLUE – FROM KINGSMEADE
Stars of Country Calendar on 13 December (see TVNZ On Demand, it's a great story), Janet and Miles King are pioneers of sheep milk cheese in NZ. Their Sunset Blue is a fabulous cow's milk blue made in the Shropshire style so it's buttery, a touch citrus, and bright orange! We like it with a Belgian Tripel or a big Pinot Noir.
Region: Wairarapa. Type of milk: cow.