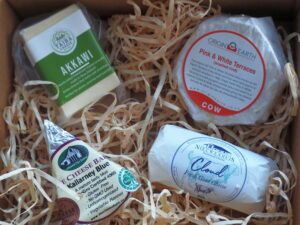 SOMETHING NEW FOR YOU
This month we welcome Taiba Cheese to The Cheese Wheel community. Quadri and Sahar are Kuwaiti-Kiwis who came to NZ in 1994, and started selling their range of Middle Eastern cheeses this year.
They are the only certified producers of Akkawi in Aotearoa. It's a famous style but rare here. We profile them on our website too if you'd like to know more.
KALLARNEY BLUE – FROM THE CHEESE BARN
This is a classic Roquefort-style blue (made to organic principles) which is uncommon in NZ (it's one of several styles which get called 'the King of Cheeses'). It's delightfully creamy, with a closed texture without many 'eyes' or little holes. Older samples can go well with a Tawny Port, a rich Sherry, or a Riesling, but this would also go well with a Rosé or a fruity, hoppy beer like a Liberty Citra.
Region: Thames. Type of milk: cow.
Akkawi is a white brine cheese originating from the Levant with a unique texture and flavour. It melts and stretches a bit like mozzarella and can be eaten on a board or used in pastries or desserts.  It's also often used in breakfast dishes.
Region: West Auckland. Type of milk: cow.
Let's face it, it's Spring! Here is a fabulously fresh and simple goat's milk cheese made by Annie and Geoff in Hawkes Bay. Annie and Geoff received the MilkTestNZ Champion Cheesemaker award at the 2021 New Zealand Champions of Cheese Awards, and you'll know why when you discover Cloud. Add some herbs, honey, chili, or just enjoy it on some crusty bread.
Go for a big fruity IPA or match it with a Rosé or a Saison.
Region: Hawkes Bay. Type of milk: goat.
PINK & WHITE TERRACES – FROM ORIGIN EARTH
A real treat by Joannie, Richard and the Origin Earth team in Havelock North!
This is truly a dazzling cheese if you treat it right – room temperature for an hour until it's all oozy. It's a washed rind with a perfect texture and a pungent, earthy flavour. It goes well with a Riesling, Gewurztraminer, a cider, or an 8 Wired Saison Sauvin.
Region: Hawkes Bay. Type of milk: cow.