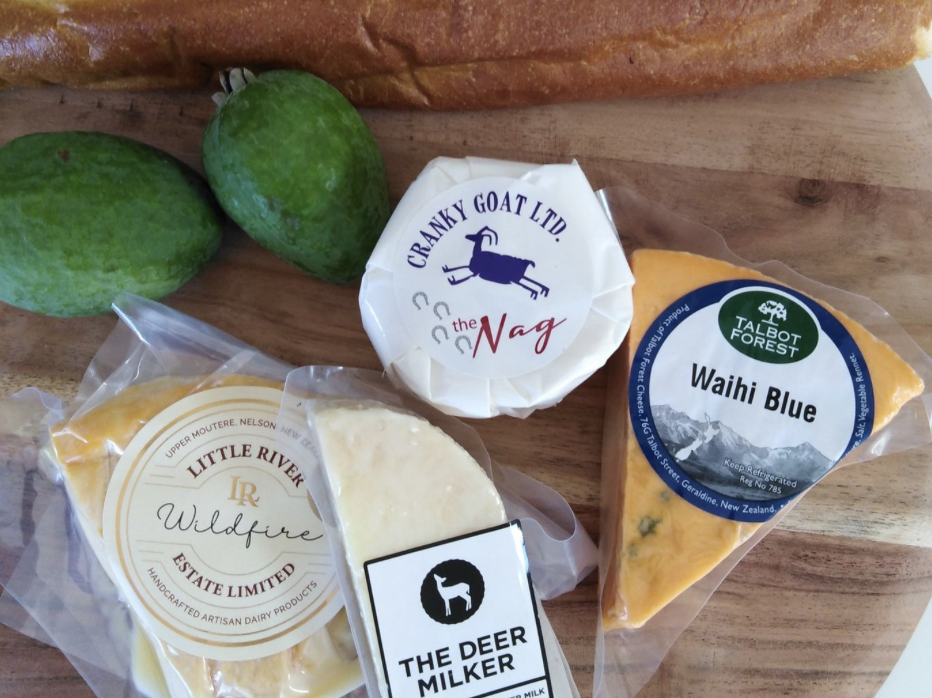 A huge thanks to you as a member of The Cheese Wheel movement! Whether you've been with us for a while or whether this is your first box, please don't underestimate how important you are in helping our artisan cheesemakers through this time of Covid-19.
One North Island cheesemaker we work with had to dump much of their production in April because of the closure of farmers' markets and the like. Another cheese maker tried direct couriering from their rural location and it took six days to travel about 120km. It's tough on our friends who make the wonderful cheese we all love, and, like us, they are very appreciative of your support.
Our hygiene and food safety processes are very stringent, and we have also liaised closely with our couriers to ensure safe and sound delivery to your door.
But hey, there's no better way of saying 'thank you' than delivering you some heavenly cheeses from the across Aotearoa.
Please note photo does not show all cheeses in this month box.
SMOKED GOUDA – FROM MEYER CHEESE
There is some fine smoked cheese made in Aotearoa, and the Meyer Smoked Gouda shines amongst them. Not all 'smoked cheese' is smoked using natural methods, but we only supply naturally smoked cheese. This is a classic gouda, crystals included, but with the added depth provided by the smokiness. Try it with a pinot noir or a rich scotch ale.
Origin: Hamilton, North Island. Type of milk: cow.
THE NAG – BY THE CRANKY GOAT
The Cranky Goat has only been making cheese for about 4 years, but this spectacular cheese shows they've mastered the process. Some say it starts with a faint cabbage taste, but our recommendation is to delay your gratification until it's truly soft, even bordering on runny. If you can exercise discipline, you will be rewarded with an intense mushroom flavour, as well as the gorgeous mouthfeel. If you're celebrating the easing of the Covid restrictions then it goes well with a local bubbly. Chardonnay, cider or a pale ale – but not too bitter – match perfectly. If it's a wintry night, try a port or calvados.
Origin: Marlborough, South Island. Type of milk: goat.
WILDFIRE – FROM THORVALD
Wildfire is a delicious washed rind cheese we featured in our very first box. The cheese is washed with a brine to encourage the growth of bacteria. The centre is soft and, if left long enough, will become oozy and completely addictive – don't expect to 'save some for later'. This will stand up to a Riesling or a Gewürztraminer, most beers, or a light red like a merlot.
Origin: Nelson, South Island. Type of milk: cow.
TINUI BLUE – FROM KINGSMEADE
Miles and Janet King are trailblazers in the artisan cheese industry in Aotearoa. Here's another of their fabulous cheeses, featuring for the first time in one of our boxes. We can't beat their own description: "The Tinui Blue has come to be our 'signature cheese' and has won numerous awards over the years. It has a delicate yet intense balance of sweet and salty flavours which pair perfectly with a rich dessert wine. The green/blue mould contrasts beautifully with the pale sheep's milk, making the Tinui a beautiful addition to any cheese platter. It is a firm yet spreadable cheese, perfect with plain crackers and ripe pear slices."
Origin: Wairarapa, North Island. Type of milk: sheep.