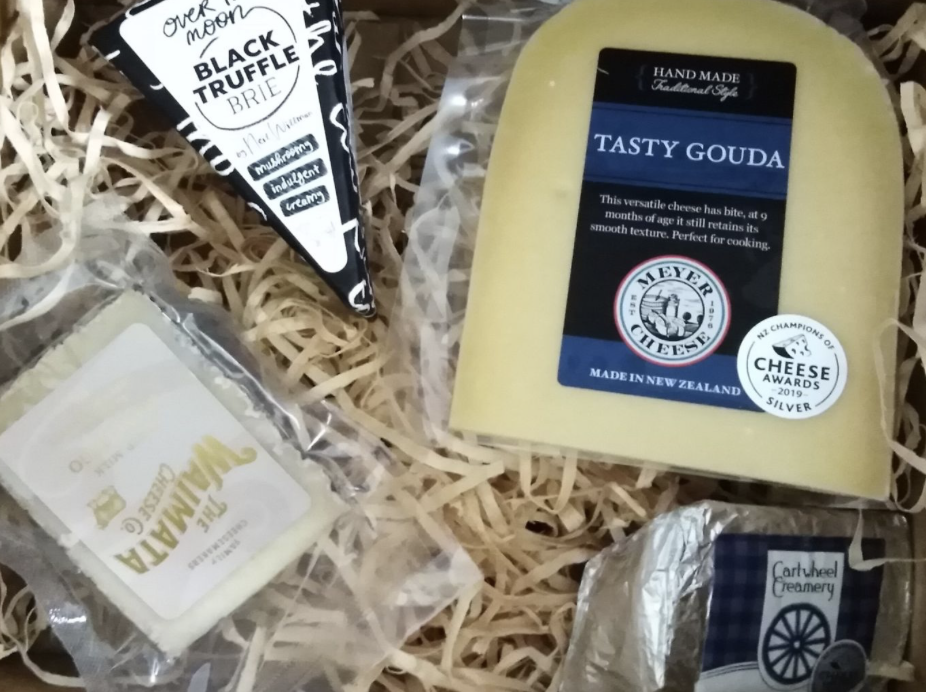 In our last few boxes we've featured cheeses made from the milk of lots of different animals and from up and down the country.
This month we've included a sheep milk cheese from a cheesemaker new to The Cheese Wheel, but otherwise focused on fabulous cheeses made from cow's milk in a central North Island triangle connecting Manawatu, Gisborne and the Waikato.
It's a three-legged cow extravaganza!
SHEEP MANCHEGO – FROM WAIMATA CHEESE
This month we welcome Waimata to The Cheese Wheel range. Few cheesemakers in Aotearoa are making manchego, so it's a relief the good people at Waimata are in the game. Manchego is a harder Spanish style, full flavoured and very distinctive. For the literary and movie-minded, it's originally from the town of Manchego, the home of Cervantes' Don Quixote i.e. "The Man from La Mancha". It's pleasing to see Waimata use the traditional markings on the rind too.
Origin: Gisborne, North Island. Type of milk: sheep.
BLUE RHAPSODY – BY CARTWHEEL CREAMERY
Gee, we love this blue and all of us in The Cheese Wheel movement seem to agree! It's not sharp like a Danish blue, nor super stinky (although there's nothing wrong with being super stinky!), but its perfect balance between the tang of the blue and its supreme creaminess makes this one of the best cheeses made in Aotearoa. What do you think?
Origin: Manawatū, North Island. Type of milk: Jersey Cross cow.
TRUFFLE BRIE – FROM OVER THE MOON
Speaking of stinky cheese, here's a real treat for the olfactory obsessive. Actually it's not THAT stinky, but this truffled brie in the French style has a layer of dark truffle paste in the middle that defines "earthy" and "musky" and which contrasts beautifully with the buttery flavour of the cheese paste. Make sure it's nice and oozy before you crack into it. This cheese is a delight.
Origin: Waikato, North Island. Type of milk: cow.
TASTY GOUDA – FROM MEYER CHEESE
A New Zealand classic from one of the grand old artisan cheeseries in Aotearoa. Founded by Dutch migrants decades ago, Meyer make cheeses which regularly win awards at international cheese events. Tasty Gouda is one of their classics, It is as fine a gouda as you'll find anywhere in the world. Enjoy!
Origin: Waikato, North Island. Type of milk: cow.