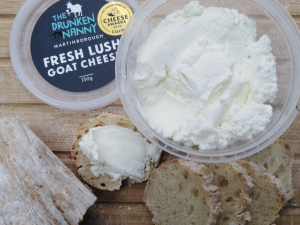 Our small team of cheese fanatics have had a lot of fun selecting the cheeses for you for this February cheese box. We are very thrilled to bring you this month a new cheese from a brand new cheesery! James and Kate Clairmont and their two young children moved from Auckland to Havelock North about two years ago. They run 100 East Friesian ewes (similar to what Kingsmeade run in the Wairarapa) and farm ethically (their strapline is "better for you – and ewe"), keeping lambs with their mums until naturally weaned. They contract Hohepa – we featured their Danbo in our last box – to turn some of their milk into a growing range of superb cheeses including halloumi, feta, pecorino and manchego under their Craggy Range Sheep Dairy brand.
BLUE – FROM CRAGGY RANGE SHEEP DAIRY
This is a stunning blue, a bit like a classic Roquefort. It's delightfully moist and creamy, salty, semi-firm and the flavour lingers just right. It's rindless, and blue-grey veins pattern the off-white colour. An IPA would go fine with this blue, but given it's high summer, why not try a saison, or if you find them lacking in body, try the fabulous Eight Wired Saison Sauvin. Alternatively grab one of Aotearoa's famous sauvignon blancs or (because it's high summer!) a rose.
Origin: Havelock North, Hawkes Bay, North Island. Type of milk: sheep.
LUSH – FROM THE DRUNKEN NANNY
To be honest, we couldn't improve on how The Drunken Nanny describes their beautiful Lush so here is what they say "A smooth, fresh chèvre-style goat' cheese, with an appealing hint of acidity and a mild citrus tang. Only the freshest milk is used to make our Lush Fresh, which allows the sweet creamy flavours to shine through." Perfect for spreading or cooking. Try a Berliner weisse or a local Gose, or a sauvignon blanc.
Origin: Wairarapa, North Island. Type of milk: goat.
SMOKED CACIOCAVALLO – FROM VIAVIO
Caciocavallo is Italian for "cheese on horseback" because the cheese is tied together with a rope and dangled over a wooden board to drain and age. As it ages the cheese picks up intense, earthy undertones and fruity aromas. ViaVio have smoked this one to make the flavours even more intense. Some say a chardonnay or an Italian-style light white wine suits a caciocavallo, but we prefer a full bodied red or a ridiculously hoppy IPA from Behemoth.
Origin: Nelson, South Island. Type of milk: cow.
GOAT GOUDA – FROM GERALDINE CHEESE
Another quality cheese from one of New Zealand's leading artisan cheeseries. It's a touch sweet, and lovely and creamy. They claim it has a hint of almond nougat flavours and they're right. Maybe try a Tripel or a Pilsner, or a Syrah or because it's summer, a Central Otago Pinot Noir.
Origin: Geraldine, South Island. Type of milk: goat.