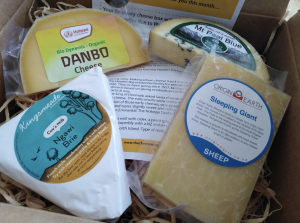 We hope you enjoyed your cheese over the holiday period, and also a big cheese welcome to our latest subscribers! We know from feedback from cheesemakers that having this new and seamless way of selling more of their lovingly-produced cheese is helping the sustainability of their businesses and lifestyle. Together, we are helping to keep NZ artisan cheesemakers afloat and prosper. We know from feedback from you and from cheese-curious people at our cheese events that discovering fabulous new cheeses made in Aotearoa is great fun. It's also about epicurean epiphanies! Please keep your feedback coming, whether via social media, or by email or text.
We've been out and about over summer visiting cheesemakers and generally doing the hard yards for you by nibbling on lots of cheese. Check out our Facebook page for some of that, with lots more to come.
And this month we feature Hohepa from the Hawke's bay for the first time…
DANBO – FROM HOHEPA
Hohepa is an inspiring story. Making artisan cheese is just one of the many activities the residents of this Hawkes Bay residential facility for people with intellectual disabilities undertake. They've been going since 1957, taking a human-centred Rudolph Steiner approach based on giving residents a real sense of self-worth by contributing in a practical way. In the early 1880s, the king of Denmark asked Swiss cheesemakers to show Danish farmers how to make cheese. The early results were similar to Emmental, holes and all. Danbo is a milder version of those early cheeses, very popular in Demark. It is pale, has a very pleasant aroma and tastes slightly sweet and nutty. Sometimes it even has holes, albeit smaller than Emmental. The Hohepa Danbo is a perfect example of the style. Some say that Danbo goes well with cider, a pinot gris, an oaked chardonnay, or even a chianti. We know it goes superbly with a NZ amber or brown ale!
Origin: Clive, Hawkes Bay, North Island. Type of milk: cow.
NGAWI BRIE – FROM KINGSMEADE
This is the first cheese we have included for the second time. We will continue to bring new and exciting cheeses to you, but we won't lose sight of the classics either. The Ngawī Brie certainly exhibits all the attributes of a classic brie, being soft, oozy, and redolent of mushrooms. Try it with some bubbles, or maybe a Chablis, both of which are perfect complements, or with a balanced IPA for some cut through.
Origin: Wairarapa, North Island. Type of milk: cow.
MT PEEL BLUE – FROM GERALDINE CHEESE
The Mt Peel Blue is the first cheese we've bought to you from Geraldine Cheese (owned by cheese maker Paul Fitzsimons), and as the name suggests, it's made in South Canterbury. It's rich and buttery and really, really smooth. Its blue-green veins pack some zest though, this is a premium cheese. A Gewurztraminer is a common suggestion to partner a blue, or more often something sweet, even a dessert wine, or a Port Another option is to go head to head and match the big impact of a blue with a hoppy IPA or even a Porter, so Port or Porter, your choice!
Origin: South Canterbury, South Island. Type of milk: cow.
SLEEPING GIANT – FROM ORIGIN EARTH
Because most of us have grown up with cheddar it's easy to underestimate how good this famous hard cheese can be. Sleeping Giant is named after the nearby Te Mata Peak (there's a craft brewery called Giant also in Havelock North). It's a sheep milk cheddar aged for 16 to 24 months, so crystals are starting to form. Classic matches for cheddar include bubbles, a Merlot or maybe a Sherry. Or look for a Red Ale, Red IPA or a Scottish Ale.
Origin: Hawkes Bay, North Island. Type of milk: sheep.