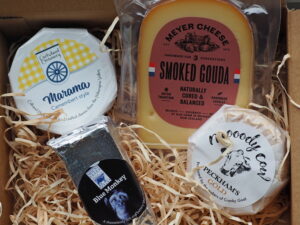 THE COWS CAME HOME
Well, four of them anyway. Many sheep and goats dry off over winter, but that's really just an excuse for us to show off four fabulous cows' milk cheeses this month, including our first cheese from the Bay of Plenty.
PECKHAM GOLD – FROM THE MOOODY COW/CRANKY GOAT
Will our artisan cheesemakers never stop innovating? Here's a delightful cheese from the Cranky Goat people (they shapeshift into Mooody Cow when they use cows' milk). It's smeared with Peckham's Apple Cider every second day for two weeks. It's rich and grunty, and goes well with, well, your favourite cider, a crisp lager, or maybe some bubbles.
Region: Nelson. Type of milk: cow.
'Marama' is moon in te Reo of course, and this is a lovely example of the camembert style which in France would come in its own little wooden box. Match it with a saison or even a sour, a chardonnay or fruity sauvignon blanc.
Region: Manawatu. Type of milk: cow.
Mount Eliza are just outside Tauranga and specialise in making cheese from raw milk. They make a pasteurised blue though, and we're thrilled to bring it to you because it's excellent (and because it's fun to feature yet another cheesery new to The Cheese Wheel). It's unashamedly based on the famous and full-on Stilton style, buttery and intense.  Go for a big fruity IPA or a port.
Region: Bay of Plenty. Type of milk: cow.
Meyer don't know how to make anything less than great cheese. This one is an award-winning hand crafted and naturally-smoked gouda that goes perfectly with a Doppelbock like The Doctor from Sawmill Brewery, or a Cabernet Sauvignon (the high tannin content can stand up to the full-flavoured gouda).
Region: Hamilton. Type of milk: cow.