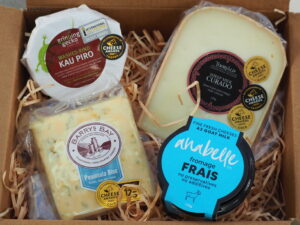 FRED AND THE 'FROMAGE FRAIS' FROM HIS GRAND-DAD
French-Kiwi Frédéric Han has joined The Cheese Wheel, bringing deep industry knowledge and a lifetime of enjoying Old World cheese. He has fallen in love with the fine artisan cheeses in Nouvelle-Zélande. He is so thrilled we are featuring a 'fromage frais' this month that he shared his grandfather's recipe.
Most people enjoy a 'fromage frais' with a spoon of honey, their favourite jam, or simply a spoon of white sugar. Frédéric 's grandfather took the road less travelled, using his Opinel knife to add some thinly sliced fresh garlic and herbs, plus some salt and pepper and a dash of red wine for his own crazy savoury dessert.
PENINSULA BLUE – FROM BARRYS BAY
One of two cheesemakers to feature for the first time in our boxes, Barrys Bay are actually the oldest artisan cheesemaker in Aotearoa. Their blue is smooth, creamy and sharp, but well-balanced with nothing dominating. Stay Canterbury local, match it with a Waipara Hills Riesling or a Cassels Milk Stout
Region: Canterbury. Type of milk: cow.
KAU PIRO – FROM GRINNING GECKO
'Stinky cow'! Yep, that's what kau piro means in English, and you can't deny it!  This washed rind is pretty stinky in the best possible way, just like most washed rinds. There's a delicious soft and oozing paste hidden in the middle too!  Try it with a sweet cider or wine, or shout yourself a Trappist style beer.
Region: Northland. Type of milk: cow.
CURADO – FROM THORVALD
Curado is a manchego-style sheep's milk cheese originating in Spain. It really is the definition of 'nibbleable'. The flavour is piquant but not too strong.  Find a full-bodied Rioja or a craft brown beer and dream of the Spanish countryside in high summer…
Region: Nelson. Type of milk: sheep.
FROMAGE FRAIS – FROM ANABELLE FINE CHEESE
This is our first cheese manufactured by artisan Anabelle David, our first from Auckland (Beach Haven on the North Shore to be precise), and our first 'fromage frais'. This is a fabulous treat however, you have it.  Anything other than a glass of your favourite red might incur Fred's grandfather's wrath, but you can also try a sparkling, a port, or a wheat beer.
Region: Auckland. Type of milk: goat.