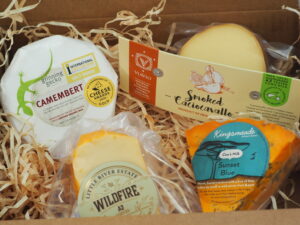 THE WELLINGTON FOOD SHOW
Our first food show! Hopefully you got a chance to come and visit us – Nancy, Mark, Fred, Sylvia, and Kevin. It was at the Sky Stadium from Friday 28 to Sunday 30 May. We always love your feedback on our selections and we're always keen just to talk about NZ artisan cheese.
SUNSET BLUE – FROM KINGSMEADE
Cheese Wheelers who have been part of our community for a while know we love this cheese and have featured it before. It looks spectacular. The texture is buttery and well, heavenly, and the taste is also divine.  Light the fire, pour a glass of your favourite port, and try not to eat the whole cheese in one sitting.
Region: Wairarapa. Type of milk: cow.
CAMEMBERT – FROM GRINNING GECKO
Another award-winning cheese, this camembert is simply a perfectly executed example of this famous style.  Like with all our cheeses, Grinning Gecko use traditional methods but using milk from cows who get to chow down on NZ's lush paddocks. Be patient, let it warm up and start to ooze before you succumb. Be brave and try it with a sour beer, or your favourite pinot noir.
Region: Northland. Type of milk: cow.
SMOKED CACIACAVALLO – FROM VIAVIO
Perfect for a hygge evening. This aged cheese will remind you of a forest floor in winter with its intense earthy tones. It starts off white but turns ever-more yellow as it ages. Achieve a Danish effect with this Italian style cheese and a Scottish peaty malt. Why not, it's cold outside.
Region: Nelson. Type of milk: cow.
WILDFIRE – FROM LITTLE RIVER
Another cheese we've featured before, this is a ridiculously good washed rind made from A2 milk by a transplanted French cheesemaker in the Upper Moutere valley. Leave it out for an hour before smearing it on some crusty bread and you'll see what we mean. Some argue for a cider, but we'd run with a crisp beer like Garagista, or a Gewurztraminer.
Region: Nelson. Type of milk: cow.