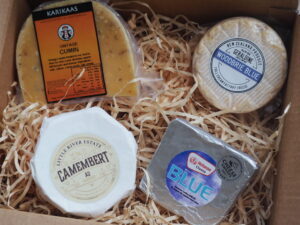 THE JOYS OF AUTUMN
Quite a few cheeses are not available over much of autumn and winter. Goats dry off for example, and they won't start milking again until spring. NZ's artisan cheesemakers don't stop working though, and we've brought you another wonderful range of cheeses to enjoy after a long walk kicking the leaves piled beneath those red and golden trees you'll find across Aotearoa.
WOOD BRIE – FROM GERALDINE CHEESE
Our friends at Geraldine Cheese never stop innovating, and there they are at it again. This is a delightful, soft brie but with touches of blue hidden away inside. This seems like magic given bries have mould on the outside and blues have mould injected into the inside. It's mid-autumn, so enjoy with a nice tawny port.
Region: South Canterbury. Type of milk: cow.
BLUE – FROM HOHEPA
We've featured this blue a while back, and, well, we've missed it and you probably have too. It's a beautiful example of a creamy blue full of flavour but not too challenging. Hohepa is a noble cause too of course, providing a safe environment for some of the most vulnerable amongst us to lead full lives. Funnily enough this goes well with a port too, maybe ruby.
Region: Hawkes Bay. Type of milk: cow.
VINTAGE CUMIN GOUDA – FROM KARIKAAS
This classic and very popular flavoured cheese originated when the Dutch colonised Indonesia. This version from Karikaas – founded by Dutch migrants to Aotearoa – is vintage because it's aged for at least a year before released to market. It's a very friendly cheese, pairing with chardonnay, viognier, a merlot, or with a brown ale (our favourite match).
Region: North Canterbury. Type of milk: cow.
CAMEMBERT – FROM LITTLE RIVER
This lovely camembert is creamy with a subtle flavour.  Leave it out for up to an hour before smearing it on some crusty bread and you'll see what we mean. We'd run with a crisp beer like Garagista, or a Gewurztraminer.
Region: Nelson. Type of milk: cow.