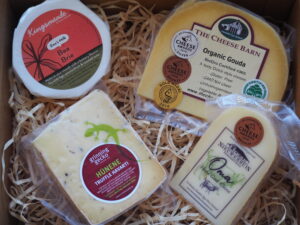 WANT MORE OF YOUR FAVOURITE CHEESE?
Just email us if one of the portions just isn't enough (it's fine, people do ask us for more…). We also supply restaurants, cafes and bars and can top you up on your favourites.  You benefit from our wholesale prices, and depending on volumes, we can also work to minimise extra courier charges.
ORGANIC GOUDA – FROM THE CHEESE BARN
Another sublime gouda made by another sublime cheesemaker. This looks beautiful and golden, and melts in your mouth after maturing for at least five months. Maybe go 'full noise' and drag out a Cabernet Sauvignon or its beer equivalent and pick up a Hop Federation Red IPA.
Region: Thames. Type of milk: cow.
HUNENE – FROM GRINNING GECKO
Hunene is a truffle Havarti by Grinning Gecko so new you won't find it on their website. Havarti is a semi-soft cheese often associated with breakfast – we say any excuse to nibble on cheese, but with the truffle kick this is ideal for the cheeseboard. Grab any of the hazys Behemoth are pumping out, or a Riesling, but nothing too acidic or the cheese may taste a little sour.
Region: Northland. Type of milk: cow.
OMA – FROM NIEUWENHUISS
'Oma' is 'Grandmother' in Dutch, and this is a nicely matured cheese befitting this exulted status. It sits around for at least three months, developing a thick skin but creamy and crumbly inside, and like all grandmothers, can be a bit salty. Go for a Tripel or a Chablis.
Region: Hawkes Bay. Type of milk: goat.
BAA BRIE – FROM KINGSMEADE
This is not the first time we've featured this ridiculously good runny, delicious brie from Kingsmeade, and it won't be the last. It's simply a classic of its kind and goes perfectly with some bread or just eating it off your fingers like we do. It's probably heresy, but we love it with an 8 Wired Saison Sauvin or a Pinot Noir.
Region: Wairarapa. Type of milk: sheep.