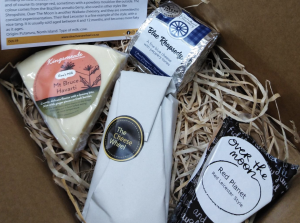 It's a North Island selection this month (don't worry, there'll be South Island cheese next month). We range from one of NZ's oldest artisan cheesemakers (Meyer) to one of the newest (Cartwheel Creamery). We'd love your feedback, either on our Facebook or Instagram pages or by email. We're all about supporting our small artisan cheesemakers and bringing cheese to the people, so we'd love your thoughts on how to constantly improve how we do that.
VINTAGE GOUDA – FROM MEYER CHEESE
Meyer Cheese are one of the leading lights of the artisan cheese scene in Aotearoa. Founded in the 1950s in Waikato by Dutch migrants Fieke and Ben Meyer, their gouda has perhaps won more awards that any other cheese produced here. Youngest son Miel – Cheesemaker of the Year in 2011 – runs the operations now, with oldest son Geert as the head cheese maker. Meyer stick to what they are renown for and just keep making their gouda better and better.
Gouda is a Dutch semi-hard to hard cheese made from cow's milk and named after the city where it was originally traded. Meyer's Vintage Gouda is a spectacular example of the style. It has a crumbly texture with a strong, sharp flavour. Being an older cheese, it also features the trademark crystals on the surface and in the body of the cheese. These are calcium lactate crystals and they add to the experience of eating this award winning gouda.
Origin: Hamilton, North Island. Type of milk: cow.
RED PLANET LEICESTER STYLE – FROM OVER THE MOON
Red Leicester (aka Leicester or Leicestershire) is an English cow's milk cheese made similarly to how cheddar is made. It is moister than cheddar, and often more crumbly, and of course its orange-red, sometimes with a powdery mould on the outside. The colour comes from the Brazilian annatto berry, also used in other styles like Shropshire. Over The Moon is another Waikato cheesery, and they are committed to constant experimentation. Their Red Leicester is a fine example of the style, with a nice tang. It is usually sold aged between 6 and 12 months, and becomes more flaky as it ages.
Origin: Putaruru, North Island. Type of milk: cow.
BLUE RHAPSODY – FROM CARTWHEEL CREAMERY
Once you've discovered blue cheese there's no going back. However, there's a mini-explosion of different blue styles in Aotearoa, and Blue Rhapsody from Cartwheel Creamery is a glorious example. It's made from cow's milk down the road from their lifestyle cheesery in the Pohangina Valley in the Manawatū, and it's everything you want in a blue. It's creamy, it's a little sharp, it looks amazing, and it has some peppery tones to discover. It also won Silver in 2019 cheese awards, but we think they really meant platinum.
Origin: Pohangina Valley, North Island. Type of milk: cow.
MT BRUCE HAVARTY – FROM KINGSMEADE
Havarti is a semi-soft cheese, most commonly made with cow's milk, invented in Denmark in the 1800s. It's a washed curd cheese that ripens from the inside, both adding to its distinct flavour and texture. Kingsmeade's Mount Bruce Havarti is their twist on the style. They use sheep's milk, and it is light and spreadable although also a bit crumbly. It's ideal for adding to salads, with berries, and with anything peppery. We reckon it's delicious by itself too and what's wrong with smearing a healthy amount on a cracker, or, well, just licking it off your fingers?
Origin: Wairarapa, North Island. Type of milk: sheep.