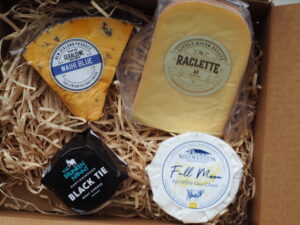 There have been some stonkingly hot days around Aotearoa in the New Year. We've featured some photos of great NZ artisan cheeses being eaten around our beautiful country on our Facebook/Instagram pages, so make sure you check them out (and feel free to provide content from your holidays as well!).
WAIHI BLUE – FROM GERALDINE CHEESE
We've featured this style before and it's a cheese that people can't seem to get enough of. It's creamy, it's a bit spicy, it's firm and it's orange and blue. This style is known as Shropshire, but it was invented in Scotland (yep, 'Shropshire' sell better apparently!). Go for a light bitter beer, or a Riesling.
Region: South Canterbury. Type of milk: cow.
BLACK TIE – FROM THE DRUNKEN NANNY
Black Tie is a truly fabulous cheese, one of the more moreish made in NZ. It's coated in black grapevine ash that is fine to eat. It's also a goat cheese that your friends who say they don't like goat cheese may take too. Keep it light with a Pilsener or a Prosecco.
Region: Wairarapa. Type of milk: goat.
FULL MOON – FROM NIEUWENHUIS
Here is a real treat! Nieuwenhuis are new to The Cheese Wheel and quite new to the market. They've been making goat cheese in the Hawkes Bay for a few years, but only recently have they started selling at the local farmers' market. We were blown away by this cheese (and some of their others which we'll feature in months to come), it's absolutely delicious. Match it with your favourite IPA or Champenoise.
Region: Hawkes Bay. Type of milk: goat.
RACLETTE – FROM LITTLE RIVER
This is the second cheese in a row from Thorvald/Little River, but there's not a lot of raclette made in NZ and we didn't want you to miss out on the joy of a summer raclette delight. The French melt this Swiss cheese onto new potatoes, ham and fresh vegetable (we also like to just nibble it, but don't tell any French friends). Grab a saison or a Belgian style pale ale, or a Pinto Griglio or Sauvignon Blanc.
Region: Nelson. Type of milk: cow.