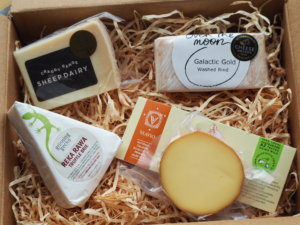 How to best care for your cheese once delivered?
We take great care to pack it in wood wool with a cold pack as you know, but it is a good idea to get it into the fridge asap. The cheese always has a 'best before' date that guides you around best and maximum time to enjoy it, but a good practice is also to start with the soft cheeses, especially if it's a fresh cheese like a chevre (goat).
It's best to store an opened cheese in either cheese paper or in beeswax wraps. The latter are expensive, but good value for money because they can be washed and used many times.
TRUFFLE BRIE – FROM GRINNING GECKO
Here is an absolute treat! If you are fond of an earthy soft cheese, then you will love this one with some truffle paste added, it's a forest floor sandwich! This is new for Grinning Gecko and they were kind enough to make a batch just for us. Celebrate this wonder with an Extra Dry or Brut prosecco or a Hops On Pointe from Garage Project.
Region: Northland. Type of milk: cow.
SMOKED CACIOCAVALLO – FROM VIAVIO
Here is another earthy gem. This is not just smoked for extra flavour, it's also aged. It slowly turns from white to yellow as it ages, and some fruity aromas start to appear. Great for eating or cooking, and Viavio suggest you melt it on some roasted bread. Try it with a light red (or a Lambrusco if you're brave) or a lower-alcohol hazy IPA.
Region: Nelson. Type of milk: cow.
PECORINO – FROM CRAGGY RANGE
Here's a secret you can impress people with: 'pecorino' just means 'ovine' or 'of sheep' in Italian. Parmesan is made from cow's milk, while pecorino is made from sheep milk but also aged less (only about 5 to 6 months) which tends to give it a more tangy flavour. It is great for grating, but we also love to nibble it. Treat yourself with a Waiheke Big Red or Red Rascal Red IPA by Double Vision.
Region: Hawkes Bay. Type of milk: sheep.
GALACTIC GOLD – FROM OVER THE MOON
The return of this spectacular washed rind cheese! This is up there with the stinkiest cheeses made in Aotearoa, so make sure you wrap it well in the fridge (if you manage to save some from when you first try it). There is a lot of angst about what wine to match with a washed rind, but maybe try a Pinot Grigio/Pinot Gris, or look for your favourite local lager.
Region: Waikato. Type of milk: cow.