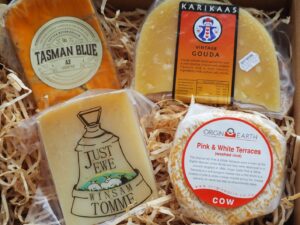 Our cheese and beer matching Wellington On Plate events were a huge success. 82 people paid to attend and everyone seemed to have a great time with lots of laughter and all-round raving about the cheese.
Part of the event was a discount to subscribe and a whole bunch of smart people joined The Cheese Wheel movement. Welcome!
TASMAN BLUE – FROM LITTLE RIVER
Little River do not make cheeses that are anything less than excellent which is why we've featured several of them. This is a relatively mild blue but creamy (it still holds much of its moisture) and a bit spicy. It's a Shropshire style so it's a blue that's orange!  Match it with a big Cabernet Sauvignon or a traditional bitter beer.
Region: Nelson. Type of milk: cow.
VINTAGE GOUDA – FROM KARIKAAS
We welcome Karikaas to our cheese community! Karikaas is another story of hardworking Dutch migrants besting the cheeses they grew up with. This is a Gold Medal winning gouda, crystals and all. Mega moreish, nutty and buttery! Try and find a Sagratino from Umbria, or a Belgian Tripel.
Region: Canterbury. Type of milk: cow.
PINK & WHITE TERRACES – FROM ORIGIN EARTH
'fess up time! We couldn't believe it when we first tried this washed rind cheese. It had been in a car for maybe a little too long, and we nearly had to eat it with a spoon, but it was a heavenly experience! Wait until it's really ripe and then find the best bread you can. Sticky and pungent and wonderful. Try it with a Prosecco or a Pils.
Region: Hawkes Bay. Type of milk: cow.
TOMME – FROM JUST EWE
A bitter-sweet story. Just Ewe made sheep milk cheese at Winsam Farm in Northland. Sadly, they have sold their flock of East Freisians to a farmer in Cromwell. We are all lucky to enjoy the last Tomme – the only Tomme made in Aotearoa – from their stocks. Tomme originated in the Swiss and French Alps and is normally produced from the skimmed milk left over once the cream has been used to make butter or richer cheeses. It's a wonderful, semi-hard cheese that goes well with a Pinot Noir or a bitter beer.
Region: Northland. Type of milk: sheep.