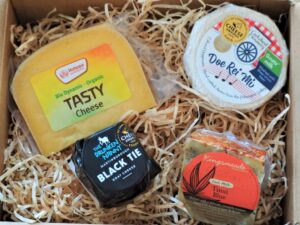 We've just sketched out our boxes for the next 6 months, although we keep flexible to account for issues like droughts constraining milk supply.
Also, we're always trying new cheeses because NZ's wonderful cheesemakers keep inventing new cheeses, so sometimes we prioritise our new discoveries.
The cheeses this month are as exciting and varied as always, but do share one thing in common: they are all made in the bottom left hand corner of Te Ika a Maui. It must be the spring climate?
BLACK TIE – FROM THE DRUNKEN NANNY
A spectacular cheese, this is another batch we commissioned for you. It's hard to tell if it tastes or looks better. That's grape vine ash coated on the outside, another classic style that also looks stunning. This will be the star of your cheeseboard. It's spring so try a rose or a fresh-hopped light IPA.
Region: Wairarapa. Type of milk: goat.
TINUI BLUE – FROM KINGSMEADE
Feedback tells us you love the delicate fresh cheeses we've featured recently, including the robiolino from Kingsmeade last month. This month we include another of their fabulous cheeses, their Gold Medal winning Tinui Blue. It's often as green as it is blue, is both sweet and salty, and it's even spreadable. Kingsmeade suggest matching it with a rich dessert wine, and we'd suggest a tawny port too, or a red IPA.
Region: Wairarapa. Type of milk: sheep.
DOE REI MI – FROM CARTWHEEL CREAMERY
Gee, this soft washed rind cheese is delicious. It's a classic of its kind, mild, nutty, and some suggest a touch of marzipan. Its name is fun too: 'doe' is a female goat of course, 'rei' is Te Reo for the colour ivory, and 'mi', well you can guess why they added that. We like it with a Tuatara APA or a NZ chardonnay.
Region: Manawatu. Type of milk: goat.
TASTY – FROM HOHEPA
Good old Tasty was probably the best of the mass-produced cheeses of old, and a good Tasty holds its own with other artisan cheeses. Hohepa's Tasty is definitely a good Tasty. It's aged for at least 8 months, and has won lots of awards. Don't muck around, splash out on a Liberty Citra or a Barolo from Piedmonte.
Region: Hawkes Bay. Type of milk: cow.