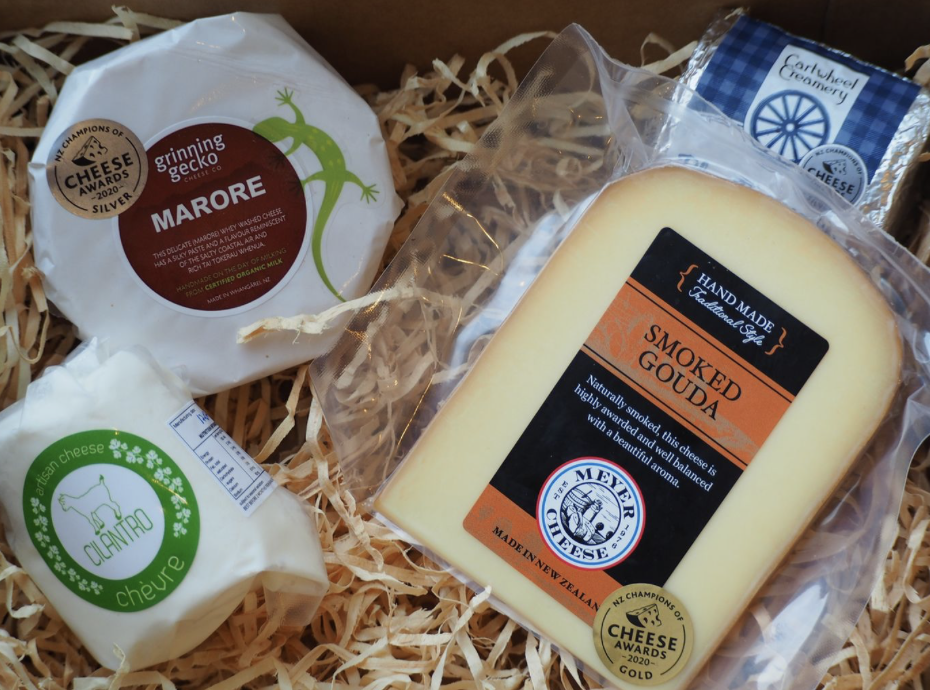 Is this box the ne plus ultra selection of artisan cheese made in Aotearoa?
It can't be because there is so much great cheese not included, but gee this is a cracker.
We bring you three fabulous cheeses from three cheesemakers familiar to the Cheese Wheel community. Cartwheel Creamery and Grinning Gecko consistently make stunning cheese but just as importantly they are always innovating. Meyer Cheese are one of the leading lights of the artisan cheese scene in Aotearoa. Meyer stick to what they are renown for and just keep making their gouda better and better.It's a thrill to also bring you cheese from a cheesemaker new to the Cheese Wheel. Cilantro cheese is made by Monica and Jenny in the Waikato. They offer a small selection of goat cheeses combining their love of cheese making with their scientific background.
NANNY BLUE – FROM CARTWHEEL CREAMERY
Blue Rhapsody is Cartwheel Creamery's amazing cow's milk blue (which some of you will have experienced from a previous box) and Nanny Blue follows the formula but with goat's milk. The texture is ridiculously smooth and melting. Its savoury flavour wins over those who say they don't like goat's milk cheese. Try it with a Riesling or a light port.
Region: Manuwatu. Type of milk: goat.
MARORE – FROM GRINNING GECKO
After we sampled a range of cheeses from Grinning Gecko we couldn't resist ordering two in a row from them. We featured their Red Leicester last month and then we asked them to make a batch of Marore just for you. They won 11 medals at the recent NZ Cheese Awards, and Marore won a silver. It's a whey-washed soft rind made from organic milk and it's simply delicious (do not eat it until it's perfectly ripe!). Grab a Riesling, gewürztraminer or a big beer like a Liberty Citra and enjoy.
Region: Whangarei. Type of milk: cow.
CHEVRE – FROM CILANTRO CHEESE
Here's a style of cheese we haven't featured before. It's an award winning fresh goat's milk curd, a signal that spring isn't far away. It's a touch citrus with a delicately aromatic, herbaceous character. Cilantro suggest a drizzle of maple syrup but we prefer to just slather it on a chunk of a fresh baguette. With its high acidity it goes well with a crisp white wine, a cider, or and IPA.
Region: Waikato. Type of milk: goat.
SMOKED GOUDA – FROM MEYER
A Champion Flavoured Cheese at the 2017 Cheese Awards, this is another cracker that goes with a cracker from Meyer. It's naturally smoked and perfectly balanced. This is a fun one to match with a beverage. Some suggest a heavier red like a Cabernet Sauvignon or Barolo, and others focus on the smokiness and go for a contrast like a dry Riesling.
Region: Hamilton. Type of milk: cow.