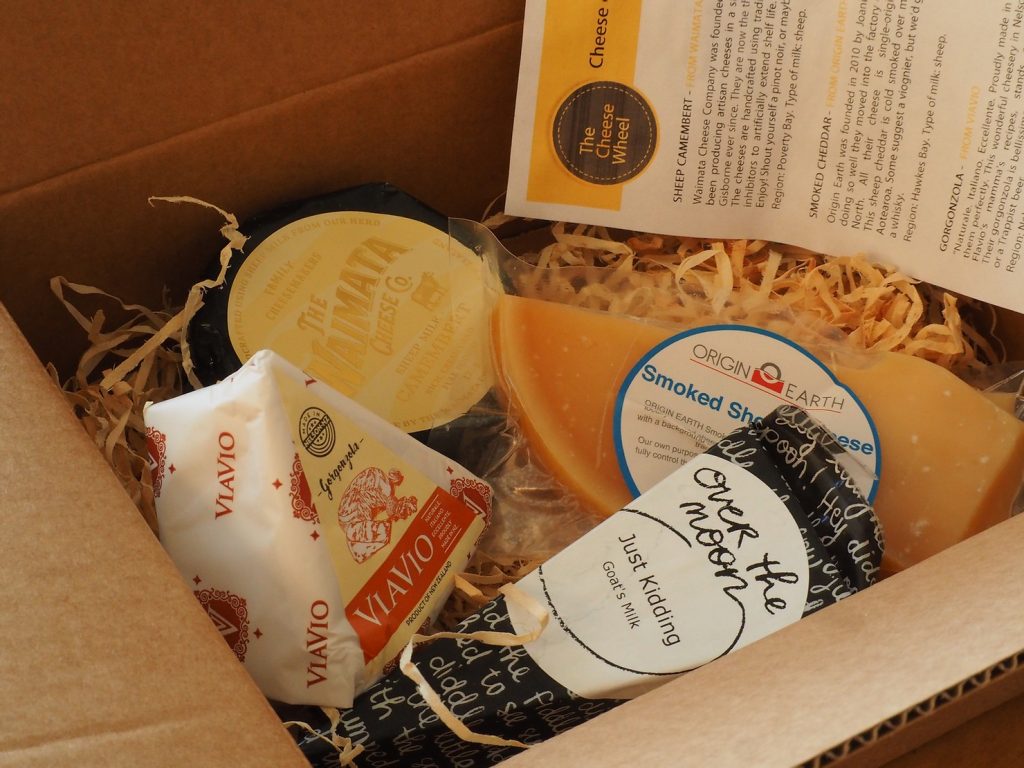 Winter is here. Time for some real cheese.
What do you call two sheep, a goat and a cow? The providers of the milk for the four wonderful NZ artisan cheeses in this month's box, that's what.
Winter is here and that means we have a few months to wait now for some of our fresher cheeses. On the other hand, what's better than sitting around the fire – or the central heating duct – and enjoying some stunning cheese with a cabernet sauvignon, a stout or even a mulled wine? Not much actually.
Congratulations to the finalists and winners of the recent NZ Cheese Awards. It's hugely encouraging to see the growing range of styles being made in Aotearoa, and it's clear that the quality and originality are globally competitive.
The Awards are also a nice reminder of how many of our local cheesemakers are small or micro businesses, and only survive because people like you recognise the value of artisan foods
So what's in this month box?
SHEEP CAMEMBERT – FROM WAIMATA CHEESE
Waimata Cheese Company was founded by Carol and Richard Thorpe in 1994, and they've been producing artisan cheeses in a small factory on the bank of the Waimata River in Gisborne ever since. They are now the third largest specialty cheese maker in New Zealand. The cheeses are handcrafted using traditional techniques without the use of stabilizers or inhibitors to artificially extend shelf life. Their sheep camembert is creamy and delicious. Enjoy! Shout yourself a pinot noir, or maybe a Sunshine Brewing Gisborne Green Pilsner.
Region: Poverty Bay. Type of milk: sheep.
SMOKED CHEDDAR – FROM ORIGIN EARTH
Origin Earth was founded in 2010 by Joanie and Richard Williams. In mid-2012 they were doing so well they moved into the factory originally built for Te Mata Cheese in Havelock North. All their cheese is single-origin i.e. every batch is from one farm. This sheep cheddar is cold smoked over mānuka, giving it a distinctive taste unique to Aotearoa. Some suggest a viognier, but we'd go with a full-bodied red, wine or beer, or even a whisky.
Region: Hawkes Bay. Type of milk: sheep.
GORGONZOLA – FROM VIAVIO
"Naturale. Italiano. Eccellente. Proudly made in New Zealand" ViaVio's strapline describes them perfectly. This wonderful cheesery in Nelson established Flavia and Flavio, and using Flavio's mamma's recipes, stands out for the Italian styles they specialise in. Their gorgonzola is bellissimo and back by popular demand. Gustare! Dig out a nice Riesling or a Trappist beer.
Region: Nelson. Type of milk: cow.
JUST KIDDING – FROM OVER THE MOON
Over the Moon is one of our larger artisan cheesemakers, but they've retained their artisan spirit and innovation.
Just Kidding is a rindless semi-hard 100% goat's milk cheese. It's the colour of pale white piano keys and never hits a wrong note with its sweet aroma and lasting after taste. Try a sauvignon blanc or a fruity red, or a balance IPA.
Region: Waikato. Type of milk: goat.