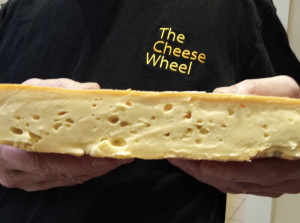 Welcome to the very first Cheese box curated for you by The Cheese Wheel.
NGAWI BRIE – FROM KINGSMEADE
Kingsmeade is an inspirational story. Miles and Janet King started experimenting with artisan cheese in the Wairarapa in 1998, initially with sheep's milk. Over 20 years on, they make 14 handcrafted cheeses using milk from their own ewes and from cows on nearby farms. Their cheeses consistently win awards. From the beginning, sustainability has been a core value, and Kingsmeade is a previous winner of the Wellington on a Plate Sustainability Award.
This classic soft white cheese style originated in the French Ile-de-France region. The white crust protects the cheese from drying out and speeds up the ripening process. The texture can vary from slightly grainy to runny, and the flavour can range from mild to a powerful mushroom taste, sometimes with a slight hint of pepper. Factory made brie tends to have a thick crust, but artisan brie has a thin crust blotched with yellow or grey patches of mould.
Kingsmeade Ngawi Brie is a stunning take on this classic style, using cow's milk. It is soft, wonderfully creamy and oozing, and redolent of mushrooms, and definitely has a thin, blotchy crust.
Origin: Wairarapa, North Island. Type of milk: cow.
WAIHI BLUE – FROM TALBOT FOREST
Lovingly created in the foothills of the Southern Alps by award-winning Talbot Forest Cheese, this Waihi Blue is an outstanding example of blue cheese with a twist of being bright orange through the addition of annatto berries from Brazil. It is firm, moist, a little sweet and creamy, with a delicious earthy spiciness.
Talbot Forest was founded by Paul Fitzsimmons around 2000. Talbot Forest is based in Geraldine, and is renowned for mixing traditional and innovative manufacturing techniques.
Origin: Geraldine, South Island. Type of milk: cow.
SMOKED TAKENGA – FROM ORIGIN EARTH
Cold smoked over mānuka, this is one of the best smoked cow cheeses produced in Aotearoa. Great texture, perfectly balanced flavours with stunning smokiness. Origin Earth was founded by Joanie and Richard Williams in Hastings in 2010, moving to Havelock North in 2012. They run their boutique organic dairy company and used local milk produced on biologically active soils.
Origin: Havelock North, North Island. Type of milk: cow.
WILDFIRE – FROM LITTLE RIVER ESTATE (THORVALD)
Wildfire is a washed rind cheese, meaning that the outside of the cheese has been washed, with a mildly salted solution to encourage the growth of a different range of bacteria on the exterior of the cheese. Wildfire is a high moisture type washed rind cheese, soft on the inside and softens further over time. This cheese brings a complex range of flavours which is enhanced with the contrasting hard rind and soft center of the cheese. Creamier type wash rind cheeses are often referred to as 'monastic' cheese with origins from the monasteries of Europe.
Origin: Nelson, South Island. Type of milk: cow.